Innovation
Collaborative projects
Innovation

Sherpack (2017-2020)
Sherpack (2017-2020)
A sustainable, recyclable, and biodegradable high barrier flexible packaging material

Produce two proofs of concept for an innovative food packaging material that is compatible with a circular economy
Develop the three breakthrough technologies required in order to produce this material
Aim of the project

The market for flexible packaging materials is predicted to grow steadily at a rate of 3% – the key drivers being cost and sustainability – and is dominated by PE and PP, which are not biodegradable and can be difficult to recycle, especially when used in multi-material products.
The Sherpack project aims to develop an alternative to these plastics: a flexible packaging material with excellent barrier properties that is bio-based, recyclable and biodegradable, and can be easily heat-sealed and folded. The target market is flexible packaging for dry foodstuffs, estimated at 1.6 million tonnes per year and representing 3.7 billion euros in Europe (2020).
Sherpack is a multi-disciplinary European project coordinated by the CTP and bringing together six partners in a consortium set up for the purpose of achieving these goals. Three of these partners are research organisations – the CTP, ITENE and ISOF – and the other three are major industrial groups – Ahlstrom-Munksjö, Cargill, and Borregaard. In addition, an advisory group composed of players from mass retail, food (brand owners), and packaging machinery manufacturing has been set up to contribute to development of the project and guarantee that it remains relevant for the value chain.
The wet lamination of a thin layer of microfibrillated cellulose achieved excellent oxygen and contaminant barrier properties: 16 g/m² are sufficient to obtain an OTR of less than 10 cm3/(m².j.bar) and reduce mineral oil migration into the foodstuff by more than 95%.
An innovative, environmentally-friendly biopolymer emulsion process has been developed, achieving a water-borne emulsion for a PLA formulation that can be used on food packaging.
As regards the printing of a polysaccharide grid on the material to enhance its mechanical and haptic properties, a formulation and an optimum grid design that significantly increase the specific stiffness of the material while making it lighter have been identified.
Last but by no means least, the material developed is recyclable via the paper stream, and biodegradable, making it compatible with the circular economy of the future.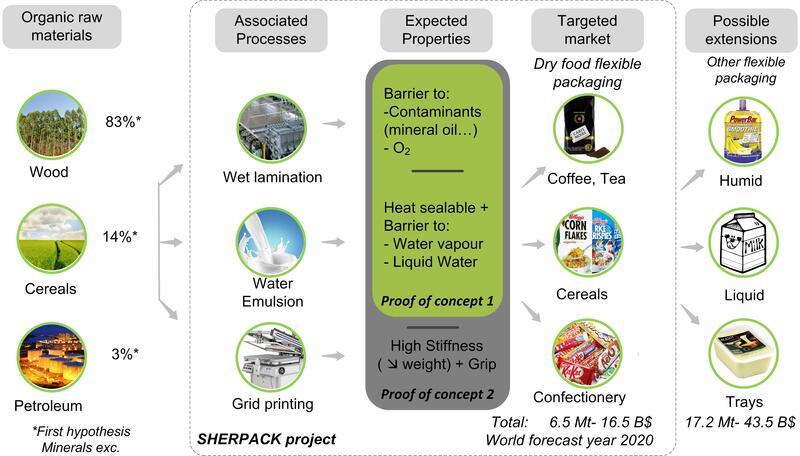 This project has received funding from the Bio Based Industries Joint Undertaking under the European Union's Horizon 2020 research and innovation programme under grant agreement No 745718.

---